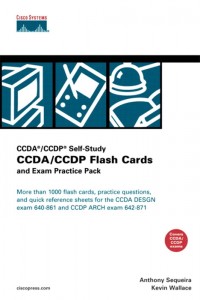 CCDA/CCDP Flash Cards and Exam Practice Pack
CCDA/CCDP Flash Cards and Exam Practice Pack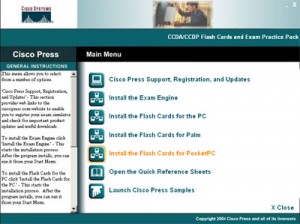 By Anthony Sequeira, Kevin Wallace.
Published by Cisco Press.
Series: Flash Cards and Exam Practice Packs.
Published: Feb 13, 2004
Copyright 2004
Dimensions: 6″ x 9″
Pages: 504
Edition: 1st
Book
ISBN-10: 1-58720-117-8
ISBN-13: 978-1-58720-117-2
Product Description
More than 950 flash cards, practice questions, and quick reference sheets for the CCDA DESGN exam 640-861 and CCDP ARCH exam 642-871
Run through practice exam questions while reviewing crucial information on challenging topics
Boost memory retention with 350+ flash cards, specifically designed to cover all exam objectives
Download the electronic flash cards to your handheld for ultimate portability
Create and save personalized sets of electronic flash cards for focused review
Digest complex CCDA and CCDP information with a set of 55+ quick reference sheets
Review all exam objectives in a variety of formats using proven self-study methods
CCDA/CCDP Flash Cards and Exam Practice Pack includes the following three tried-and-true methods of late-stage test preparation:
More than 350 flash cards. Test your understanding of CCDA and CCDP concepts with flash cards in print and electronic formats. The electronic version is PC-, Palm OS-, and Pocket PC-compatible, allowing for supreme flexibility. Shuffle the electronic cards, work from preset groups of cards, or create and save your own challenging set for focused review.
550 practice exam questions. Verify your knowledge with this robust exam engine. Test your proficiency in two modes-study mode and practice mode-and identify areas of weakness so you can concentrate on specific topics for which you need the most help.
55+ quick reference sheets. Review crucial CCDA and CCDP exam objectives with these comprehensive reference sheets. Succinct text overviews of complex concepts are supported with detailed diagrams to provide a valuable late-stage review of all that must be mastered for exam success.
Are you ready to take your CCDA DESGN or CCDP ARCH exam? You've learned the concepts, you have the experience to put them into real-world use, and now you want to practice, practice, practice until exam time. CCDA/CCDP Flash Cards and Exam Practice Pack gives you three methods of proven, late-stage CCDA and CCDP exam preparation in one package.
Test Engine
550-question exam engine includes both practice and study modes
Flash Cards
More than 350 flash cards in PC, handheld, and print formats, available in customizable sets and perforated for easy removal
Quick Reference Sheets
All exam topics included in 55+ graphical quick reference sheets
CCDA/CCDP Flash Cards and Exam Practice Pack is part of a recommended learning path from Cisco Systems that includes simulation and hands-on training from authorized Cisco Learning Partners and self-study products from Cisco Press. To find out more about instructor-led, e-learning, and hands-on instruction offered by authorized Cisco Learning Partners worldwide, please visit www.cisco.com/go/authorizedtraining.
Companion CD-ROM
The CD-ROM contains 350 flash cards and 550 practice test questions. Flash cards are downloadable to Palm OS and Pocket PC handheld devices.
Minimum System Requirements
Windows 98, Me, 2000 Pro, or XP
Acrobat Reader 5.0 or higher
Internet Explorer 5.5 or higher
16 MB RAM for Windows 98 and Me; 64 MB RAM for Windows 2000 Pro and XP
800 x 600 resolution or higher
256 or more colors
Internet access for "instant" registration
Optional: Palm or Palm OS-compliant handheld device; Pocket PC handheld device
This volume is in the Flash Cards and Exam Practice Pack Series from Cisco Press. Products in this series arm Cisco Career Certification candidates with a set of exam practice tools, formats, and environments to help them in the final stages of their self-study regimen and increase recall of key exam topics.
CCDA/CCDP Flash Cards and Exam Practice Pack covers all the objectives on the most recent CCDA and CCDP exams, including the gathering of network requirements, designing IPv6 solutions, using security, working with MPLS, deploying wireless technologies, using content networking, designing IP telephony solutions, and implementing storage networking.
Flip through the flash cards and test yourself on the critical details that form the foundation of the CCDA and CCDP exams. Whether you are searching for the ultimate Cisco design exam late-stage test preparation tool or simply need a complete package with at-a-glance, comprehensive information on advanced networking, CCDA/CCDP Flash Cards and Exam Practice Pack is packed with everything you need to access this information at home, at work, and on the go!