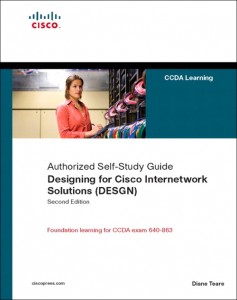 Cisco Press DESGN 640-863, 2nd Edition
Designing for Cisco Internetwork Solutions (DESGN) (Authorized CCDA Self-Study Guide) (Exam 640-863), 2nd Edition
By Diane Teare.
Published by Cisco Press.
Series: Self-Study Guide.
Published: Oct 12, 2007
Copyright 2008
Dimensions: 7 X 9
Pages: 960
Edition: 2nd
Book
ISBN-10: 1-58705-272-5
ISBN-13: 978-1-58705-272-9
Register your product to gain access to bonus material or receive a coupon.
More Information
Product Description
Authorized Self-Study Guide
Designing for Cisco Internetwork Solutions (DESGN)
Second Edition
Foundation learning for CCDA exam 640-863
Designing for Cisco Internetwork Solutions (DESGN), Second Edition, is a Cisco®-authorized, self-paced learning tool for CCDA® foundation learning. This book provides you with the knowledge needed to design enterprise networks. By reading this book, you will gain a thorough understanding of designing routed and switched network infrastructures and services within a modular architecture.
In Designing for Cisco Internetwork Solutions (DESGN), Second Edition, you will study a broad range of network design principles and guidelines. You will learn about network design in the context of the Cisco Service-Oriented Network Architecture (SONA) framework and the Cisco Enterprise Architecture. Specific topics include campus and data center infrastructure, remote connectivity, IP addressing design, routing protocol selection, voice network design, wireless network design, and including security in your designs. An ongoing case study plus chapter-ending review questions illustrate and help solidify the concepts presented in the book.
Whether you are preparing for CCDA certification or simply want to gain a better understanding of network design principles, you will benefit from the foundation information presented in this book.
Designing for Cisco Internetwork Solutions (DESGN), Second Edition, is part of a recommended learning path from Cisco that includes simulation and hands-on training from authorized Cisco Learning Partners and self-study products from Cisco Press. To find out more about instructor-led training, e-learning, and hands-on instruction offered by authorized Cisco Learning Partners worldwide, please visit www.cisco.com/go/authorizedtraining.
Diane Teare is a professional in the networking, training, and e-learning fields. She has more than 20 years of experience in designing, implementing, and troubleshooting network hardware and software and has also been involved in teaching, course design, and project management. She has extensive knowledge of network design and routing technologies and is an instructor with one of the largest authorized Cisco Learning Partners.
Understand the Cisco vision of intelligent networks and the SONA framework
Learn how to structure and modularize network designs within the Cisco Enterprise Architecture
Design basic campus and data center networks
Build designs for remote connectivity with WAN technologies
Create IPv4 addressing schemes
Understand IPv6 design
Select the appropriate routing protocol for various modules in the Cisco Enterprise Architecture
Design basic VoIP and IP telephony networks
Understand wireless design principles
Build security into your network designs
This volume is in the Certification Self-Study Series offered by Cisco Press®. Books in this series provide officially developed self-study solutions to help networking professionals understand technology implementations and prepare for the Cisco Career Certifications examinations.
Category: Cisco Press—Network Design
Covers: CCDA Exam 640-863
Designing for Cisco Internetwork Solutions (DESGN) (Authorized CCDA Self-Study Guide) (Exam 640-863), 2nd Edition