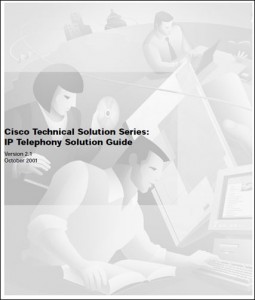 Cisco Technical Solution Series: IP Telephony Solution Guide
The Cisco IP Telephony Solution Guide is intended to help organizations implement and manage IP
Telephony network solutions, which includes Planning, Design, Implementation, and Operations
network phases. This method is called the PDIO model. Cisco experts in IP Telephony design, network
design, customer support, high availability, network management, network implementation, and
traditional telecom systems collaborated to create this document so that you can reduce guesswork,
technical resources, and the time needed to ensure successful implementation of a Cisco IP Telephony
network.
The Cisco IP Telephony Solution Guide discusses the core components of the IP Telephony network:
• Current data network design for IP Telephony
• CallManager version 3.0
• Gateways supported under the current IP Telephony architecture
• Voice mail systems
The following applications are not discussed:
• uONE unified messaging
• TAPI or JTAPI